Tell the Wolves I'm Home, Carol Rifka Brunt
Titre français : Dites aux loups que je suis chez moi
Edition : Pan MacMillan
Nombre de pages : 355
Résumé
(Quatrième de couverture)
" 1987. Une seule personne comprend June Elbus, 14 ans : son oncle, le célèbre peintre Finn Weiss. Timide et pas vraiment proche de sa grande soeur, June ne peut être elle-même qu'avec Finn, son parain, son confident et son meilleur ami. Lorsque Finn meurt, beaucoup trop jeune, et d'une maladie que sa mère évoque à peine, le monde de June s'écroule. Mais la mort de Finn est l'occasion pour June de faire connaissance avec quelqu'un qui l'aidera à faire son deuil et l'amènera à remettre en question ce qu'elle pense savoir de Finn, de sa famille et d'elle-même.
Aux funérailles de Finn, June remarque un homme étrange, caché au milieu de la foule. Quelques jours plus tard, elle reçoit un paquet dans lequel se trouvent la superbe théière de Finn et un mot de Toby, l'étranger présent aux funérailles de Finn. Toby lui demande de le rencontrer. En passant du temps avec lui, June réalise qu'elle n'est pas la seule à ne pas pouvoir vivre sans Finn et que cet ami inattendu auquel elle doit apprendre à faire confiance pourrait être celui dont elle a le plus besoin ".
Mon avis
Tell the Wolves I'm Home est le meilleur roman que j'aie lu depuis A Little Life, d'Hanya Yanagihara. Ce qui n'est pas peu dire, puisque ce dernier a été mon énorme coup de coeur de 2017 (je vous en parle très bientôt).

Dans ce roman jeunesse, nous suivons l'histoire de June Elbus, une jeune ado de 14 ans dont l'oncle Finn vient de mourir du SIDA. L'intrigue se déroule dans l'Amérique du milieu des années 80, et la maladie en question (tout comme l'homosexualité, d'ailleurs) est encore un tabou que l'on n'évoque qu'à demi-mot, voire pas du tout.
La vie de June est donc pleine de non-dits : on ne parle presque pas de la maladie de son oncle, et surtout pas de son compagnon, Toby, accusé par toute la famille Elbus d'avoir refilé le SIDA à Finn. Or, on sent tout de suite que June a besoin de parler et de savoir exactement ce qu'il se passe dans sa famille.
En fait, on peut dire que la famille Elbus est assez dysfonctionnelle. Les parents, tous deux comptables, se consacrent entièrement à leur travail et sont rarement à la maison. Et Greta, la soeur aînée de June, est une véritable peste : jalouse et ne supportant pas la pression que sa mère lui inflige (Greta doit réussir pour que maman Danni soit fière d'elle --> vous voyez le tableau), elle se venge sur sa petite soeur.

De ce fait, lorsque Toby décide de prendre contact avec June, cette dernière décide de braver tous les interdits et de le rencontrer. Avec Toby, June a l'impression de retrouver un peu de Finn et, même si la relation avec le compagnon de son oncle n'est pas toujours facile (là aussi il y a des tensions et de la jalousie qui s'immiscent), on voit se développer une belle histoire d'amitié.
Auprès de Toby, June va en apprendre plus sur son oncle, mais aussi sur sa famille et sur elle-même : tout ce qu'elle croyait savoir au sujet d'elle-même ou de ses parents va se retrouver mis en pièces et elle va devoir s'adapter à ces nouvelles informations, ce qui n'est pas simple pour une fille de son âge. Au final, certaines vérités, cachées depuis des années, vont refaire surface, non sans mal. Et tout cela va faire grandir June, qui évolue sous nos yeux.
J'ai adoré la plupart des personnages de ce roman (sauf Greta et sa mère, qui étaient insupportables), mais mes deux préférés sont les héros de l'histoire : June et Toby. Ce dernier est totalement loufoque mais, finalement, on se rend compte qu'il y a une certaine logique dans sa folie.
June, quant à elle, semble d'abord très jeune pour son âge : elle se déguise et fait semblant d'être une jeune fille du Moyen âge (période de l'histoire qu'elle affectionne tout particulièrement) perdue dans les années 80. Mais, bien vite, les difficultés et les responsabilités vont la faire grandir et évoluer, jusqu'à finalement lui faire adopter certains comportements d'adulte (puisque June finit par prendre Toby en charge).
L'histoire d'amitié (presque d'amour) qui se met lentement en place sous nos yeux est vraiment bien écrite par l'auteure et on y croit de bout en bout. June ne se jette pas immédiatement au cou de Toby parce qu'il était le compagnon de son oncle adoré : elle se méfie, ne lui fait pas tout de suite confiance et ne se livre pas. Toby, de son côté, semble mal à l'aise. C'est seulement petit à petit que ces deux-là vont s'apprivoiser mutuellement, à travers les souvenirs qu'ils gardent de Finn.

Tell the Wolves I'm Home est un roman triste et mélancolique, mais aussi optimiste. Il nous apprend que tout est possible et que l'on peut toujours évoluer si on en a le courage. Et il nous parle d'amitié, d'amour et d'art. Que demander de plus ?

P.S. : n'hésitez pas à le lire en V.O. le niveau de langue n'est pas insurmontable et l'original est bien plus fluide que sa traduction.
Quelques citations
" I really wondered why people were always doing what they didn't like doing. It seemed like life was a sort of narrowing tunnel. Right when you were born, the tunnel was huge. You could be anything. Then, like, the absolute second after you were born, the tunnel narrowed down to about half that size. You were a boy, and already it was certain you wouldn't be a mother and it was likely you wouldn't become a manicurist or a kindergarten teacher. Then you started to grow up and everything you did closed the tunnel in some more. You broke your arm climbing a tree and you ruled out being a baseball pitcher. You failed every math test you ever took and you canceled any hope of being a scientist. Like that. On and on through the years until you were stuck. You'd become a baker or a librarian or a bartender. Or an accountant. And there you were. I figured that on the day you died, the tunnel would be so narrow, you'd have squeezed yourself in with so many choices, that you just got squashed. "
" That's the secret. If you always make sure you're exactly the person you hoped to be, if you always make sure you know only the very best people, then you won't care if you die tomorrow. "
" I knew the way lost hopes could be dangerous, how they could turn a person into someone they never thought they'd be. "
" Because maybe I don't want to leave the planet invisible. Maybe I need at least one person to remember something about me. "
" The sun kept on with its slipping away, and I thought how many small good things in the world might be resting on the shoulders of something terrible. "
" I thought of all the different kinds of love in the world. I could think of ten without even trying. The way parents love their kids, the way you love a puppy or chocolate ice cream or home or your favorite book or your sister. Or your uncle. There's those kinds of love and then there's the other kind. The falling kind. "
" Sometimes it feels good to take the long way home. "
" I needed to know that my mother understood that her hand was in this too. That all the jealousy and envy and shame we carried was our own kind of sickness. As much a disease as Toby and Finn's AIDS. "
Les Bingos du Café la Jasette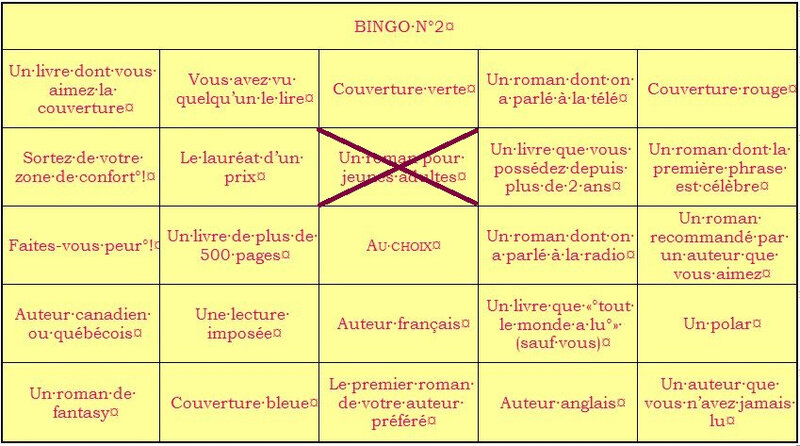 Un roman pour jeunes adultes